My initial assessment on December 3rd that the world had run of sellers has been a win so far – see Breathless Hysteria Overdone?
I am maintaining my long positions in SSO and DIA.
Although not quite as bullish as I was a month ago, my thoughts remain the same:
Markets discount bad news and this market has discounted everything except the end of civilization.  The talking head predictions of doom dominate the headlines.   Today is probably psychologically equivalent  to when oil was peaking at $150 and predictions of $300 dominated the headlines.

Without bothering to consider what the future will bring, at this point there is money to be made on the long side.   The market is extremely oversold.  Nothing goes in a straight line.  High quality Dow stocks have 5-7% dividends.  The Fed's zero interest rate policy will force money into higher risk investments.  There is optimism building about a new Administration.
Returns on SSO and DIA from December 3, 2008 closing to January 2, 2009 closing.
It is interesting to note that the DIA, an ETF structured to provide investment results that, before expenses, match the price and yield of the Dow Jones Industrial Average returned 4.8% vs 5.1% for the DJIA.
The SSO, an ETF designed to return twice the performance of the S&P 500, returned 12.3% vs a gain of 7.0% on the S&P500.
Generally speaking, the ETF's worked as they were theoretically supposed to.
Under my theory of selective contrarian investing, which has served me well, this may be the time to start moving into selective issues in the oil and gas industries and to start selling positions in long treasuries.   Given the vast over performance of treasuries last year and the dismal results in oil and gas, the odds favor this investment reallocation on a long term basis.
I will be buying DIG this week and adding to positions on weakness.
Let's all have a prosperous New Year!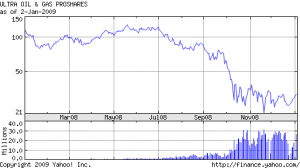 Charts courtesy of Yahoo Finance