Newmont Mining (NEM) has been a frustrating stock for many investors over the past 14 years.
As the price of gold moved from the $390 range in May 1996 to $1200 today, Newmont's stock price is only $3 above the all time high of $59 reached in May 1996.  Long term Newmont shareholders are certainly justified in wondering when the price explosion in gold will be reflected in Newmont's stock price.
Based on recent relative price performance and fundamentals, Newmont shareholders should finally be looking forward to an explosive move upward in the price of the shares.
During the recent price correction in gold, Newmont's shares have shown a strong relative price performance compared to other large major gold producers.  Short term price pullbacks in Newmont were quickly recovered, indicating eager buyers at lower prices.
The fundamentals on Newmont are exceptional and do not seem to be fully factored into the stock price.  Newmont sells at a forward price earnings ratio of only 15 times earnings, has had quarterly revenue growth of 46%, enjoys a 17% return on equity, has had quarterly earnings growth of 188%,  is sitting on $3.4 billion in cash ($7 per share) and the stock price has recently hit an all time high.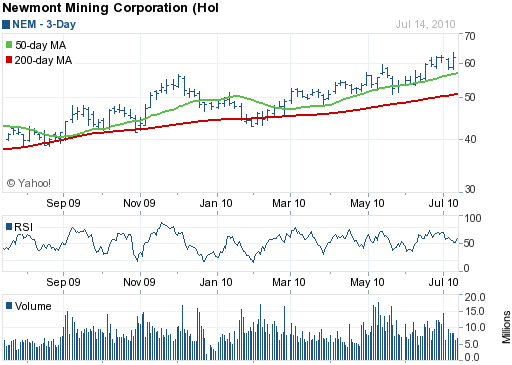 Based on the trend in fundamentals and strong relative price performance, look for a blowout earnings announcement by Newmont on July 28th.
Disclosures: Long NEM