Today's horrendous economic news on Singapore would seem to suggest that now is a poor time to be considering the purchase of foreign stocks.
Singapore GDP Posts Biggest Fall On Record
SINGAPORE — Singapore plunged deeper into recession in the fourth quarter as gross domestic product marked its biggest quarterly decline on record, said the government, which lowered its projection for 2009.

The darker outlook for the small, trade-dependent economy — considered to be a bellwether for the rest of the region — likely means the government will step up spending to offset a slowdown in manufacturing and a rapid cooling in the construction and services sectors.

Singapore's economy contracted at a seasonally adjusted, annualized pace of 12.5% in the quarter, accelerating from a 5.4% decline in the third quarter, according to the Ministry of Trade and Industry's estimate. It was the biggest contraction since the government began publishing seasonally adjusted data in 1976.

Citigroup economist Kit Wei Zheng is more pessimistic. He forecasts GDP will contract 2.8% this year.  "If we are correct, 2009 will mark the most severe recession in Singapore's history," he said.
Now let's consider the advice of Warren Buffet  – "Be greedy when other are fearful and be fearful when others are greedy".  The best advice is also the toughest to follow and none of us "feel good" buying on bad news.   For those who do invest based on the feel good factor, consider the following super bullish article from February 12, 2007.
Singapore: The Safest Route to Asia's Riches
AS A RULE, SMALL TROPICAL ISLANDS HAVE AN OBLIGATION to the rest of the world to preserve themselves as sun-filled, rum-soaked, licentious getaways. But Singapore doesn't do laid-back very well. Nearly 4,200 flights take off and land each week at its bustling airport, and its port is the world's busiest. At 4.41 million, the number of mobile-phone users exceeds its adult population, and sometimes they all seem to be talking at once. Even Singapore's national pastimes — eating and shopping — are pursued with a ferocity that might make a New Yorker blush.
When the purchase of stocks is the easy decision, the reason it's easy is because bullish news is usually a phenomenon associated with tops, not bottoms.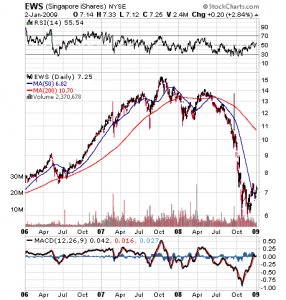 Emotions aside, where would you rather buy?