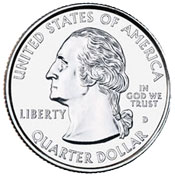 One of the consequences of a recession is a decline in demand for newly minted coins. Economic activity declines and there is less demand for coins in commerce. Individuals also put long hoarded change back into circulation. Coins come out of hiding from couch cushions, penny jars, and abandoned State Quarter collections. The net result is a drop in the number of new coins produced.
This year, the United States Mint expects coin production to decline by as much as 70% from the prior year. This is on top of a 30% decline experienced for 2008.  The situation has become so severe that the US Mint had already announced that they will not mint any more nickels or dimes for the remainder of 2009.
Total US Mint Circulating Coin Production
2007
14,440,650,000
2008
10,141,580,000
2009 (through May)
1,909,400,000
As dire as the annual figures seem, the month to month indications are also pointing straight down. Since 1999, the US Mint has produced five different designs for the quarter each year, which serves to provide data points over shorter time periods. The designs are changed every 2-3 months. This year there are six designs, so the new designs are released approximately every two months. Here's what the production totals look like for this year.
2009 Quarter Production
District of Columbia design
172,400,000
Puerto Rico design
139,200,000
Guam design
87,600,000
To put these numbers in some perspective, last year each of the five State Quarters designs had at least 400,000,000 minted with the highest total coming in at 517,600,000 for the Hawaii Quarter, which was minted during the last few months of 2008. The highest quarter production since the start of the rotating designs occurred in late 2000, when the Virginia Quarter had 1,594,616,000 coins minted.
The latest production for the Guam Quarter represents a decline of 83% from the recent Hawaii Quarter and a whopping decline of 94.5% from the peak production for the Virginia Quarter.
This was a guest post written by Michael Zielinski.