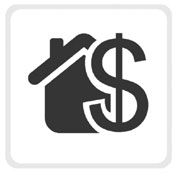 New Appraisal Guidelines Effective April 1, 2009
All FHA appraisals dated on or after April 1, 2009 must include a Market Conditions Addendum in order for the loan to be insured by the FHA.  There are also new guidelines for appraisers to follow when the property is in a declining market area.
Appraisal-Related Policy Changes and Clarifications
Due to current conditions in the real estate market, it is paramount that appraisers are provided with sufficient guidance to properly appraise and document the appraisal report. Fannie Mae recognizes the Uniform Standards of Professional Appraisal Practice as the minimum appraisal standards for the appraisal profession. In addition, Fannie Mae has established its own separate appraisal requirements to supplement the Uniform Standards.
Adoption of Market Conditions Addendum and Appraisal Reporting Requirements for Properties located in Declining Markets
For all appraisals of properties that are to be security for FHA-insured mortgages and that are performed on or after April 1, 2009, the appraisal must include the Market Conditions Addendum.

Use of Closed Comparable Sales and Active Listings/Pending Sales for Appraisals in Declining Markets

As economic instability continues to impact many segments of the economy and as home prices continue to decline in many housing markets throughout the country due to job losses and increased foreclosures, FHA finds it necessary and prudent to set forth additional guidance for collateral assessment practices for properties located in a declining market. This guidance is also effective April 1, 2009.

Declining Markets

Although there is no standard industry definition, for purposes of performing appraisals of properties that are to be collateral for FHA insured mortgages, a declining market is considered to be any neighborhood, market area, or region that demonstrates a decline in prices or deterioration in other market conditions as evidenced by an oversupply of existing inventory or extended marketing times.

Appraisal Reporting Requirements in Declining Markets

Appraisals of properties located in declining markets must include at least two comparable sales that closed within 90 days prior to the effective date of the appraisal.
In some markets compliance with this requirement may be difficult or not possible due to the lack of market data and, in these cases, a detailed explanation is required.

In order to ensure that FHA receives an accurate and thorough appraisal analysis, the inclusion of comparable listings and/or pending sales is required in appraisals of properties that are located in declining markets. Specifically, the appraiser must:

• Include a minimum of two active listings or pending sales

• Insure that active listings and pending sales are market tested and have reasonable market exposure to avoid the use of over priced properties as comparables.

• Adjust active listings to reflect list to sale price ratios for the market.

• Adjust pending sales to reflect the contract purchase price whenever possible or adjust pending sales to reflect list to sale price ratios.

• Include the original list price, any revised list prices, and total days on the market (DOM).

• Reconcile the adjusted values of active listings or pending sales with the adjusted values of the settled sales provided.

• Include an absorption rate analysis, which is critical to developing and supporting market trend conclusions, as mandated by the Market Conditions Addendum. F

Data Requirements

Data regarding market trends is available from a number of local and nationwide sources. Appraisers must be diligent in using only impartial sources of data.

Lender Responsibilities

Lenders are responsible for properly reviewing the appraisal and determining if the appraised value used to determine the mortgage amount is accurate and adequately supports the value conclusion.

Direct Endorsement lenders are reminded that if the appraiser they selected provides a poor or fraudulent appraisal that leads FHA to insure a mortgage at an inflated amount, the lender is held responsible, equally with the appraiser, for the integrity, accuracy and thoroughness of an appraisal submitted to FHA for mortgage insurance purposes.
Impact of New Appraisal Requirements
The new guidelines should ensure that an FHA purchaser is not overpaying when purchasing a home.  This benefit may be offset, however, by the fact that it may become more difficult for a purchaser to receive seller concessions from the seller since it will be more difficult for the concessions to be absorbed into the sales price. In the past, there would have been more latitude available by the appraiser to build the seller concession into the sales price through a higher appraised value.
The bottom line for many buyers may be that they now need significantly more cash at closing, in addition to the 3.5% down payment money.   It is not uncommon to have seller concessions of 4 to 6% which absorbed prepaid expenses and closing costs.  If the seller concession is not available, the borrower could easily be looking at additional cash out of pocket requirements of around $5,000 on a $150,000 purchase, in addition to the $5250 down payment.
Borrowers attempting to refinance (especially in a declining market), may find it much more difficult to do so with lower appraised values.  In addition, every reputable FHA lender will be examining FHA appraised values much more closely due to the lender liability for a poor or fraudulent appraisal.
The tighter appraisal guidelines should ultimately result in appraised values that more accurately reflect  housing values and thus prevent problems associated with inflated appraisals that occurred in the past.   Whether or not more accurate appraisals will lead to a more stable housing market is another matter, subject to debate.  A matter not subject to debate is that for anyone purchasing or refinancing through the FHA, getting a loan approval has just become more difficult.