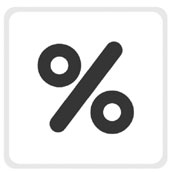 The Limitation of Low Rates
The Fed has done everything under its power to bring down mortgage rates and the best customer today can get a 30 year fixed rate mortgage at around 4.75%.  Despite the all time low in mortgage rates, the housing market continues to suffer as foreclosures and mortgage delinquencies mount.  If mortgage rates dropped even lower, say to 3.625%, would such a low rate stimulate the purchase of houses?  Rock bottom rates offered by some home builders give us some insight into this question.
Mortgage Rates Cut By Builders
As mortgage rates fall to near historic lows, some home builders are offering even lower interest rates, in an effort to lure buyers amid the slow spring selling season.

The latest sales promotion: Lennar Corp. is offering a fixed 3.625% rate over the life of a 30-year fixed rate mortgage. The deal is besting average rates that have fallen below 5% nationwide, but it comes as other builders are reporting mixed results from similar incentives.

Hovnanian Enterprises Inc.'s recent offer of a 3.99% rate sparked "underwhelming" interest from home buyers, says Dan Klinger, president of the builder's mortgage operation. "It wasn't like we needed crowd control," says Mr. Klinger.

Bargain mortgage rates are the latest sales strategy from builders struggling to sell homes. Mounting unemployment continues dogging the sector, because people without jobs, or those afraid of losing one, are unlikely to purchase, no matter how low the rate.

The builders' low rates may help first-time home buyers, "but it's not going to goose the trade-up market," says Thomas Lawler, a housing economist. "That's because most trade-up buyers use the equity from their previous home for a down payment, and that equity often doesn't exist any more."

While some builders acknowledge that price cuts are the most effective way to move inventory, such cuts could cause buyers who have already bought a house at a higher price to walk away from their deposits.
It Always About Jobs
Apparently, low mortgage rates can help but not cure the sick housing market.  Bailouts and stimulus spending may help housing in the short run but in the long term it's always about jobs.  Until the economy starts to recover and jobs become secure, potential home buyers will lack the confidence to purchase homes.   Expensive homeowner bailouts and foreclosure holidays accomplish little in addressing the underlying fundamental problems of housing.   Once the jobs come back, the housing market will cure itself.
Unfortunately a housing recovery based on income and job growth just became less likely.  The ADP March employment report just released shows major job losses in every sector of the economy.  Non farm private employment plunged by 742,000 jobs in March.  This is the 15th consecutive month of job losses with no hint of recovery on the horizon.   Anyone looking for a fast recovery in the housing market will be disappointed.