Rates Increase
Mortgage rates increased today on a sell off in the Treasury market. The benchmark 10 year treasury note increased in yield by 16 basis points (bps) to 2.244%. The 2008 low on the 10 year treasury yield was 2.038%.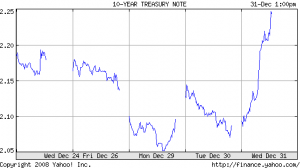 The increased yield on the treasury bond has resulted in a mortgage rate increase of 3/8% over the past few weeks.   A 30 year fixed rate mortgage at par today is 4.875%, historically a super low rate.  So what if rates moved up a little bit – 4.875% still sounds almost too good to believe.
Low Rate Does Not Apply To All Borrowers
Before rushing out to refinance, be aware that the advertised low rate of 4.875% is available only to the most perfect borrowers and the 4.875% rate will cost around 1 point (1% of the loan amount) plus other closing costs.
Unless a borrower has perfect credit (at least a 720 FICO score), adequate income (debt ratio of 32% or less) and substantial equity in the home (loan to value of 75% or less), the rate will be higher due to adders.  Adders are fees imposed by Fannie and Freddie if the applicant does not fit into the little box of a perfect borrower.  Adders are imposed for higher loan to value, lower credit scores and cash out refinances.  The adders can easily amount to 2% of the loan amount, or $2,000 on a $100,000 loan.   If a borrower is applying for cash out with a FICO score below 680 many lenders will turn the loan down.
Here's an example of what used to be considered a prime borrower in the recent past.  Borrower has a 680 FICO score, adequate income and wants $20,000 cash out with an 80% loan to value and a loan amount of $160,000.   The chart below shows the cost of not being a perfect borrower as defined today.
Interest Rate

6.750%

Price Adjustments

-1 FICO 680-699, LTV 75.01-80

-0.8750 C/O Refi. LTV 75.01-80, FICO 680-699
The best rate this borrower would get quoted today would be 6.75% and the mortgage company would need to charge an additional 1 to 2 points on the loan (up to $3200 based on a $160,000 loan amount).
This is the reality of the mortgage market today.  Many borrowers applying for a refinance with visions of a 4.875% rate and a payment reduction are finding out that they do not qualify.   There is much in the news about the "mortgage refinance boom".   Expect to see stories in a month or two about how few borrowers actually benefited from the lower rates.