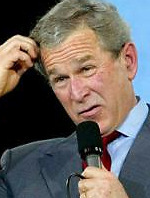 The Wall Street Journal reports today that the President expressed surprise that the bailout bill did not pass. Earlier in the day, White House spokesman Tony Fratto had predicted that the vote would pass. One has to wonder what kind of indifferent involvement there was by the White House if they had no idea how many members of their own party were not going to go along with the President's plea to pass the bail out bill.
Someone not familiar with the structure of our government and reading the financial press for the past year, could easily be pardoned for assuming that our country was being ruled by Ben Bernanke and Henry Paulson, whose decision making powers seem to be unlimited yet still have had no ability to forestall the deepening loss of confidence and the rapidly escalating meltdown of the world financial system. Is it possible that the President did not want to get engaged, believing that his Treasury Secretary and the Federal Reserve would solve all our financial problems in short time? I think the more likely answer is that President Bush never had and still has no comprehension of the magnitude and dangers of the financial crisis that has been unfolding in ever more frightening ways over the past two years. Apparently aroused from his slumber a week ago by dire forecasts of an imminent meltdown, he gave a national speech that was so dumbed down and ineffective, you have to wonder what audience he thought he was speaking to. Obviously, the President wasn't even able to convince members of his own party, that the bailout made sense and could never overcome the popular notion that the bailout was simply another handout to Wall Street.
My own perception is that even if the bailout is passed, it will not accomplish what the powers to be were expecting. Confidence worldwide has been shattered by huge losses on virtually every asset class. The perception that loss avoidance is better than taking any risk for a gain will remain with us for some time, especially with the daily collapse of large institutions. Few saw this collapse coming and none know how it will ultimately end.