American workers should be celebrating the latest numbers from the U.S. Department of Commerce that show personal income at all time highs.  Since taking a rather sharp dip during the recession of 2008-2009, personal income has soared to almost $13 trillion, up from $12 trillion in early 2009.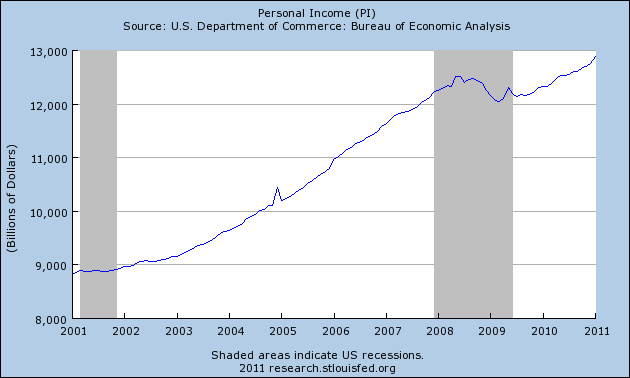 Getting Americans to believe that their incomes have actually increased is another story.  While the Department of Commerce is reporting all time highs in income,  another survey released by Fannie Mae shows the opposite.
Fannie Mae (FNMA.OB) conducts a National Housing Survey every quarter that polls homeowners and renters in depth about their confidence in homeownership, overall confidence in the economy and the current state of their household finances.
The latest National Housing Survey for the fourth quarter of 2010 polled 3,407 Americans and the results do not reflect the rosy income numbers reported by the Department of Commerce.
The survey revealed that 62% of all respondents believe the U.S. economy is on the wrong track, 60% reported that monthly household income was the same as a year ago and 34% said that their monthly expenses were "significantly higher" than a year ago.  Only 19% of those polled said their incomes were significantly higher.
Keep in mind that Americans do not normally "inflation adjust" their perception of personal income – when respondents say that their income has not changed, it means they are receiving the same absolute amount of dollars, unadjusted for inflation.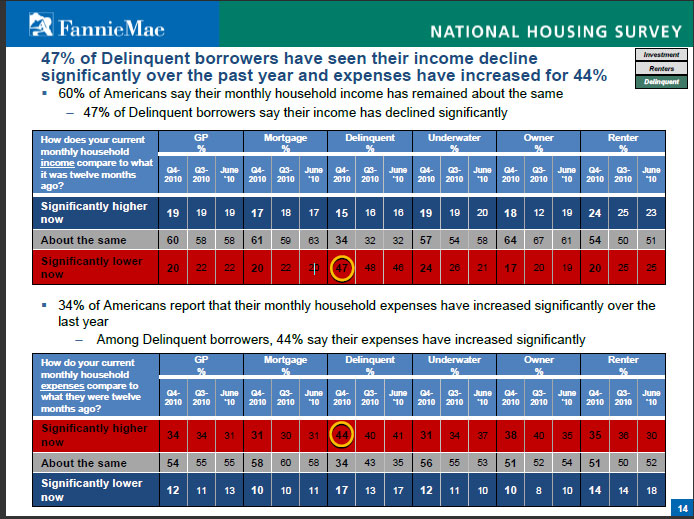 Total personal income may have increased but income gains seem to have been limited to a small minority of Americans.
In any event, if most Americans have not seen an increase in their monthly incomes, there is little reason for comfort going forward.  As higher oil and commodity prices work their way through the system, the basic cost of living will increase for everyone.  If that's not enough, once Fed Chairman Bernanke's obsession with creating higher inflation succeeds, we are all apt to feel poorer.