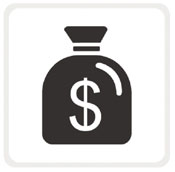 Low Rates But Large Fees
Only the perfect borrower gets the lowest advertised mortgage rate in today's market.  Many mortgage borrowers are now subject to various fees based on credit score, loan to value, property type and loan type.   The fees are assessed by the government lending agencies and must be added to the loan by the lender and passed on to Fannie Mae or Freddie Mac  – see Fannie and Freddie – The New Subprime Lenders.
The fees are known as "adders" or "delivery fees", but the bottom line to the customer is that they can dramatically increase the cost of a refinance.   The various fees can be substantial and are cumulative – it is not uncommon to see total fees approaching 5% of the loan amount.   Keep in mind that that the adders and delivery fees are in addition to regular closing costs and points which can add another 1 to 3% in costs to the mortgage transaction.
Three years ago, most of these fees either did not exist or were at much lower levels and could be absorbed by a slight increase in the rate.  Today, the fees can be so high that not only must the rate be adjusted higher but many of the fees have to be directly charged at closing.
The Perfect Customer
A borrower with a credit score of 720 or higher and a loan to value of 60% or less qualifies at 4.625% with no additional fees.
Examples of Less Than "Perfect"
The following are actual pricing  examples of what a borrower would be charged by Fannie or Freddie on a $250,000 cash out refinance at 80% loan to value (LTV) on a single family owner occupied residence with full income verification.
1.)  Borrower has a FICO score of 660-679.  Fees would total 4.0% or $10,000 on a loan of $250,000.
2.)  Borrower has a FICO score of 680-699.  Fees would total 2.875% or $7,187 on a loan of $250,000.
3.)  Borrower has a FICO score of 700-719.   Fees would total 1.5% or $3,750 on a $250,000 loan.
4.)  Borrower has a FICO score of 720-739.   Fees would total 1.0% or $2,500 on a $250,000 loan.
Rates have declined to all time lows, but depending on your situation, it may be very expensive to refinance.    Before refinancing, find out in advance what fees you may be charged so that all costs can be taken into consideration when determining if the refinance makes sense.   Sometimes, the benefit of a lower mortgage rate is more than offset by the closing costs.